Información de la revista / Journal information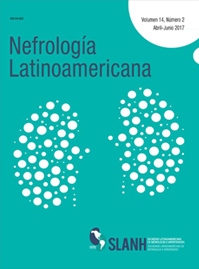 ISSN: 2444-9032
Indexed in CLOCKSS and DOAJ
Nefrología Latinoamericana es el órgano de difusión oficial de la Sociedad Latinoamericana de Nefrología e Hipertensión (SLANH), integrada por las sociedades nacionales de Nefrología de más de 20 países y por los médicos nefrólogos de Latinoamérica.
Sus objetivos fundamentales son trabajar por la salud renal de la población latinoamericana a través del mejoramiento de la formación de los nefrólogos de la región y de la promoción y difusión de los avances científicos destinados a tal fin.
Nefrología Latinoamericana es una publicación semestral open access. Tras revisión por pares, publica artículos originales, revisiones, casos clínicos, imágenes en nefrología y cartas al editor en español o en inglés sobre aspectos relacionados con la investigación básica y clínica de temas relacionados con la nefrología como glomerulopatías, inmunopatología, diabetes, hipertensión arterial, metabolismo óseo y mineral, diálisis y trasplante renal tanto en adultos como en pediatría.

---

Nefrología Latinoamericana is the official journal of the Sociedad Latinoamericana de Nefrología e Hipertensión (SLANH), formed by national societies in Nephrology from more than 20 countries and the nephrologists from Latin America.
Its aim is to contribute to the renal health of the Latin-American population through the improvement of the nephrologists' education and the promotion and spread of the scientific advances in the field.
Nefrología Latinoamericana is a biannual open access and peer-reviewed journal. It publishes original scientific articles, reviews, clinical cases, images in nephrology and letters to the editor in Spanish or English, regarding topics in nephrology related with basic and clinical research, such as glomerulopathies, immunopathology, diabetes, arterial hypertension, bone and mineral metabolism, dialysis and renal transplantation in both adults and pediatrics.